Does it seem a little strange to pair churches and lighthouses in a blog post? Maybe we can suggest that they both cast light into the world? On the other hand, lighthouses warn us away, while churches would like to draw us in. One thing they have in common is that many are falling into disrepair and are expensive to maintain. People seem to love lighthouses and take great pains to preserve them, even though the technology is no longer needed, thanks to satellites and GPS. Churches, on the other hand, are a hard sell and I know that United Churches in particular are closing at an increasing rate.
We saw plenty of both churches and lighthouses on our Maritime trip and took photos of a few to share.
St. James United in the tiny Nova Scotia community of Great Village, is a charming wooden church on the main corner of town. I learned after I was home that, sadly, it has just recently been put up for sale by the congregation which is declining in numbers but advancing in age, an unfortunate combination for maintaining a church.
St. James, a historic landmark dating from 1883, needs a new purpose in the village and a meeting is to be held on November 25 to brainstorm ideas.
Walton Lighthouse is the last original lighthouse in Nova Scotia. Built in 1872 it used to guide ships into Walton Harbour on NS's Fundy coast. Decommissioned in the 1970's and sold, it is now maintained by a non-profit organization. Volunteers manage the lighthouse and operate the nearby gift shop. The friendly woman on duty the day we were here told us all about the historic harbour (at one time the busiest in Nova Scotia) and about the barite and gypsum industries.
Walton Lighthouse
Can't resist adding in this beautiful photo taken by somebody else on another day.
Peggy's Cove Lighthouse, on the eastern side of St. Margaret's Bay, is iconic. The original structure dates from 1868 and its replacement, built in 1914, is still operational today, though automated. It's really fun to jump around on the huge granite outcrops that the lighthouse sits on and to watch the waves crashing in. Apparently every year several tourists get swept off the rocks in spite of the warning signs.
Peggy's Cove
In Halifax Harbour - Georges Island, and its lighthouse, 1876 and replaced in 1917
Georges Island, viewed from Citadel Hill
The Woods Island Lighthouse in PEI welcomes the ferry from Caribou, Nova Scotia.
Woods Island, PEI, 1876
At the northeastern tip of PEI there is the East Point Lighthouse, still operational today, run by electricity. There is also a craft shop and a small coffee shop on the site. It's a charming place to visit.
East Point Lighthouse, PEI, 1867
Still in PEI, in the distance, perched on a hill in St. Peter's Bay, is a large Roman Catholic Church. This photo was taken from the Confederation Trail.
St. Peter's Bay Roman Catholic Church
This 1927 Catholic church is one of the first things you notice when you arrive in the St. Peter's Bay.

Here's a better picture (Not mine)
St. Peter's Bay United Church is one half of a two-point charge and is still active.
St. Peter's Bay United Church, PEI, 1886
The following lighthouse is on the south shore of PEI and we had lunch nearby before crossing the Confederation Bridge back to the mainland.
Victoria-by-the-Sea, 1879
There are so many pretty churches in PEI. I love how this steeple resembles a lighthouse.
The Cape Jourimain lighthouse is near the Confederation Bridge.
Dating from 1870 Cape Jourimain Lighthouse is no longer operational, having been decommissioned in 1997. It sits on property now owned by the Cape Jourimain Nature Centre, which is fundraising to restore and keep the lighthouse as a reminder of the area's marine heritage. You can see that it's desperately in need of fresh paint.

Sackville (NB) United Church (above) is on this corner, adjacent to this marvelous structure (below) which was closed. Apparently this 135-year old white building, all 6000 square feet of it, is for sale, but the current owners (developers, not the church) want the building renovated or moved. With the church offices now in the old town hall next door, Sunday services are being held at Mount Allison University Chapel nearby while plans are underway for construction of a new building.
I found some interior shots online (isn't that amazing??)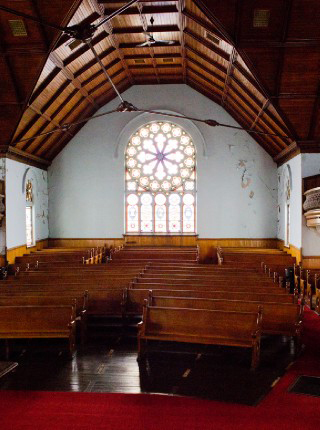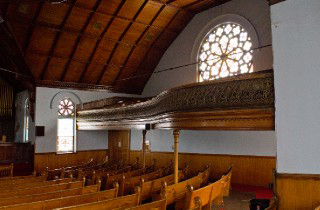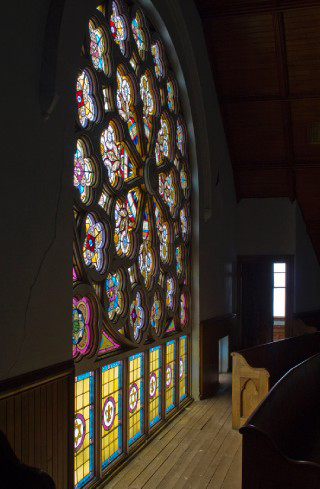 It was a long side-trip in from the highway to Cape Enrage, New Brunswick, but totally worth it, especially on such a beautiful day. The Cape sits on the point of an island (reached over a causeway) right where the Bay of Fundy tides surge in and out over a shallow reef, resulting in violent waters just off shore. It is also extremely windy. There has been a lighthouse here since 1847. It is now totally automated in a newer structure.
Cape Enrage, Lighthouse (1870) Fundy Coast of New Brunswick
There's a path up to the lighthouse
Cape Enrage is now an adventure centre, with rock climbing, rappelling and a zip line (all closed when we were here). It was one of the destinations on this summer's Amazing Race Canada.
Cape Enrage
A small but important lighthouse, guarding a treacherous point.
Finally, here's the wonderful map that was in our room at the Algonquin Resort in St. Andrews-by-the-Sea, NB as well as one of the many spectacular sunsets we saw over the course of a couple weeks.