The page today is to cover a few things that didn't make it into the previous pages about our trip to Alaska and the Yukon. I hope nobody is getting bored with all these details....? I'm mostly doing all this for myself. Blogging for me is like putting all this stuff into an online scrapbook. I'll be able to return and have another look sometime in the future.
First a little more about Dawson City. Considering how difficult it was during the gold rush to get to Dawson when there were no roads (people then traveled long distances by foot, horse, dog sled and river boat) we can really appreciate the highways that are now in the vicinity. Dawson is still in the middle of nowhere - Fairbanks and Whitehorse are each 500 miles away, but there are now some connecting roads, with intriguing names. Of course we didn't take the photos of these highways, but luckily I found some online.
Klondike Highway: 712 km. from the west side of Dawson City south to Skagway, Alaska. It parallels the 1898 route taken by prospectors. The highway passes through British Columbia for 56 km. and shares part of the Alaska Highway near Whitehorse. Whitehorse is the dividing point between the North Klondike Highway and the South Klondike Highway.



Five Finger Rapids from the Klondike Highway



Top of the World Highway: goes 300 km. west and south from the east side of Dawson City to Tok, Alaska. Open from May to September when seasonal border services are available. Although the highway is open until snowfall, it closes at the border when there is no one on duty in the off-season. Tok is partway to Fairbanks and the highway continues as the Alaska Highway in that direction.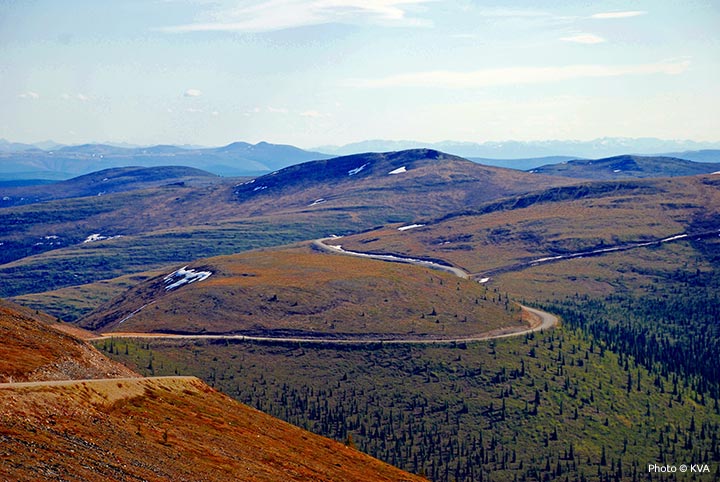 Dempster Highway: begins about 40 km east of Dawson City, intersecting with the North Klondike Highway. The Dempster Highway heads 736 km. north to Inuvik in the Northwest Territories. Inuvik is at the MacKenzie River delta. During the winter there is an ice road which extends the highway 194 km. farther north to Tuktoyaktuk on the Beaufort Sea.
Arctic Spruce on the Dempster Highway
("Permafrost bush very green" by david adamec - Own work. Licensed under Public Domain via Wikimedia Commons - https://commons.wikimedia.org/wiki/File:Permafrost_bush_very_green.jpg#/media/File:Permafrost_bush_very_green.jpg
There are very few services available on any of these highways. For the most part, none of them is paved, except here and there and washboard conditions are common.
Types of Pacific Salmon
On the way to Ketchikan the captain of the catamaran was careful to tell us about all the different kinds of Pacific salmon and their alternate names. I found
some info
online. The Status Maps are pretty interesting - they show the distribution of each species.
Illustrations by Shari Erickson
Chinook
Also known as Kings
• The largest of the species, up to 125 lbs
• Can live up to seven years
• Spawn most often in large rivers or streams and in deep, fast water
• Flesh color may vary from white to pink to red
• Least abundant of North American Pacific salmon
Coho
•
Also known as Silvers
• Spend one to two years in freshwater before migrating to sea
• Require small headwater streams for pre-migration period
• Originally one of the most commercially sought after species; now depleted in many areas
Chum
Also known as Dogs for their canine-like teeth, or as Keta after their Nanai (Asian aboriginal group) name
• Broadest geographic range of all the species, extending from California to Korea
• Spawn low in river systems
• Migrate to sea soon after hatching
• Flesh color may vary from white to pink to red
• Drier flesh well-suited for smoking
Pink
•
Also known as Humpies
• Most abundant of the species
• Smallest of the species
• Often spawn in estuaries or lower reaches of rivers
• Migrate to sea soon after hatching
• Two-year life cycle with alternate even and odd year runs
• Lowest fat content of the species
• Frequently used for canning
Sockeye
•
Also known as Reds
• Darkest flesh of the species
• Name comes from the First Nation sukkai, meaning "fish"
• Greatest variety of life history patterns — spawn not only in rivers but also in lakes
• Often spend one to three years in freshwater before migrating to sea
• Some populations have become land-locked and are known as kokanee salmon
Steelhead
Live as much as four years in freshwater before migrating to sea
• May mature without ever leaving fresh water, in which case they are called rainbow trout
• Often do not die after spawning, but will re-migrate to the ocean
• Highly prized by anglers for their fighting spirit
Salmon enter the Yukon River (for example) near Nome. They stop eating after they enter fresh water and take 3 months to reach Whitehorse where there's a dam and a fish ladder.
The fishladder was put into service in June 1959. That first year, 1,054 salmon went through the ladder.
Construction cost: $875,000
Size: 366 metres (1,200 feet) long with a rise of more than 15 metres (nearly 50 feet), making it the longest wooden fishladder in the world
Construction materials: timber and reinforced concrete
While the fishladder included three viewing windows to allow the public to see the salmon as the fish traveled up the ladder, there was initially no visitor reception centre. Instead, students were hired to operate a small information booth during the summer months. It wasn't until the 1980s that an interpretive building was built and a series of outdoor walkways was added.
Today the Whitehorse Rapids Fishway is one of the most popular tourist destinations in Yukon. As many as 30,000 people a year come to see the salmon.
In 2014, a total of 1,601 salmon travelled through the fishladder. Of that number, 77 percent of the fish were hatchery origin.
There's a
salmon cam
which, because of murky water (it will clear as the weeks go by) is not quite in operation as of the date I'm preparing this blog post and also the salmon haven't yet quite arrived. By the time this post is published, though, in more than 2 weeks time, it may very well be functioning, so check it out.
There is also a
Swan-Cam
, now deactivated because the swans have continued their migration northward. If you remember, check it out next year: the entire month of April and the first half of May. Yukon Energy, which operates and maintains the fish ladder has quite a few interesting podcasts and videos on their website - tons of information!
Here's a fish cam video:
Next up: Wildflowers in the North
The growing season in the north is so short, but the wildflowers are abundant:
Alpine Cinquefoil
Arctic Lupine
Goatsbeard
Moss Phlox
Oxeye Daisies
Pink Wintergreen
Thyme
Mountain Avens
Northern Sweet Vetch
Purple Saxifrage
Arctic poppies
Wild Rose
It was all a feast for the eyes! There were a lot of cultivated flowers to enjoy too.
Iris
Dahlia
Hostas