International Carrot Day, April 4, began in 2003 and is celebrated by carrot-lovers mainly in Australia, France, Italy, Japan, Russia, Sweden and the UK as well as by equines around the world. People enjoy wearing slightly odd orange costumes and,
because carrots are so good for us with lots of beta carotene and fibre,
making carrotty foods such carrot cake, carrot muffins, carrot slaw etc.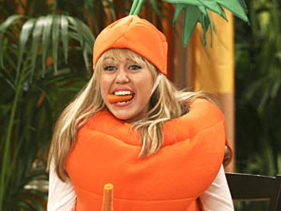 Here's a recipe from Smitten Kitchen for what is either muffins or cupcakes - your choice.
Carrot Tahini Muffins
(Cupcakes with the icing)
(see my notes below)
Yield: 12 to 14 muffins https://smittenkitchen.com/2016/04/carrot-tahini-muffins/
Muffins

1/4 cup (60 ml) olive oil
1/4 cup (30 grams) well-stirred tahini
1/2 cup (80 grams) firmly packed light brown sugar
2 large eggs
3/4 cup (175 ml) buttermilk, almond milk or (non-alcoholic) apple cider
1 teaspoon (5 ml) vanilla extract
2 teaspoons baking powder
1/2 teaspoon baking soda
1/4 teaspoon fine sea salt
2 cups (260 grams) all-purpose flour (see Note)
2 cup packed coarsely grated carrots (from about 9 ounces or 5 slim carrots)
1/2 cup (60 grams) powdered sugar
3 tablespoons (25 grams) tahini
2 tablespoons (30 ml) water
Toasted sesame seeds for garnish
Heat oven to 425 degrees F. Whisk olive oil, tahini and brown sugar together in the bottom of a large bowl. Whisk in eggs, then buttermilk and vanilla. Whisk in baking powder, baking soda and salt, then switch to a spoon or flexible spatula and stir in flour, then carrots, mixing just until combined.
Either line a 12-cup standard muffin pan with paper liners or coat them with a nonstick spray. Fill each about 3/4 of the way with batter. You'll probably have enough for 2 more after this so you can hold some back if needed. Bake muffins for 14 to 16 minutes, or until a tester inserted into the center of each comes out batter-free. Muffins should be domed and lightly golden on top. Let them cool in pan for 5 minutes on a rack before transferring them to the cooling rack to cool completely.
my notes from Jan. 2016: I thought these could benefit from some cinnamon and possibly a bit more sugar or some maple syrup
Carrot Salad
For something even healthier, how about a carrot salad? This one is adapted from David Lebovitz.
Some whopping big carrots, shredded finely on a box grater

Flat-leaf parsley, chopped, but not too finely

Dressing: juice of freshly squeezed lemon(s), good quality olive oil, a pinch of sugar, freshly ground salt and pepper, all whisked together and then mixed with carrots.
Don't worry too much about amounts - just taste as you go along and trust your buds.
Meanwhile, at the Donkey Sanctuary....