Are you familiar with this author, Cecelia Ahern? She's a 34-year old Irish woman, daughter of politician Bertie Ahern, whose name we used to see frequently in the news.
Cecelia Ahern's first novel, P.S. I Love You was an immediate global best-seller and was made into a major film. Not bad for a first outing! Since then she has written many other novels, The Marble Collector being the 12th. Before now I hadn't read any of them.
Part of the reason I have missed Ahern's oeuvre is that they are classified under chick lit, which, for the most part, I avoid, finding them cringe-inducing. I found
The Marble Collector
on the "New Books" shelf
at the library and after reading the blurb on the inside front cover thought it sounded like a good bet.
The tale is centred around a 60-ish
Irish
man recovering in a nursing home from a serious stroke, resulting in some mobility issues and partial amnesia (he has "lost some of his marbles"). His daughter comes upon a marble collection which apparently is his though she has no knowledge of such a hobby. In her investigation of the collection, part of which seems to be missing, she discovers that her dad has had an entire secret life, under another name.
Having a day available, thanks to an unexpected change in her usual routine, the daughter, Sabrina, is able to do some impossible running around after various clues and tips and manages to discover not only who her dad is/was, but to find herself at the same time.
Ahern balances the revelations of Sabrina's day with reminiscences of her dad, Fergus' life over the decades and we begin to understand the conflicts within him which led to his secrets.
Cecelia Ahern is a gifted story-teller. I didn't experience any cringe-inducing moments in reading
The Marble Collector
. The plot moved right along and, by the way, I loved finding out more about marbles.
For example, marbles are named not only for how they are made or how they look but also based on size, right from
all the way through decorative or game marbles, targets, mibs, commies, duckies, alleys, shooters, A.K.A., taws, bosses, boulders or bowlers, jumbos, super jumbos and toe breakers.
Like most kids I had a Seagram's bag of marbles when I was growing up, mine handed down from older brothers. I never played marbles, but I loved sorting through their glassy mysteries and wondering how they had come to be. I even remember having a couple steelies - though I'm not sure they weren't just ball bearings.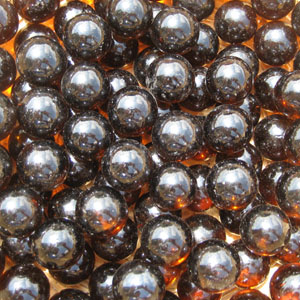 Glass Rootbeer shooters $8.50/lb (approx. 50-55 marbles)


Moon Marble Co
Who couldn't read about a snake corkscrew: a three-colour special, a double twist with a green and transparent clear with filaments of opaque white and tiny clear bubbles inside and not want to know more about marbles. Names such as bloodies, Joseph's coat swirls, onionskin and banded lutz, clambroths - all intriguing and reminiscent of earlier times. I wish I had known the names of all my childhood marbles.
Near the end of the novel Ahern has a glass-blower character who creates a special marble for Sabrina's dad, so we get to find out a bit more about how they come about. For extra reading about marbles and their fantastic names and games go to Wikipedia or Moon Marble Co., which has for sale, bulk machine-made marbles of all kinds and sizes as well as exquisite hand-crafted marbles such as the two expensive ones pictured above and many more besides, including this one: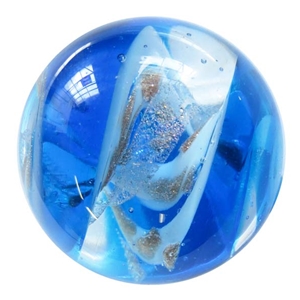 Blue Spiral Marble with Copper Aventurine and Dichro $65


Moon Marble Co
Yes, I liked this novel. No worries about it being "chick-lit". As Ahern says, "We all have things we never want to forget. We all need a person to remember them just in case."
In my case, if I start to lose my marbles, I'll be able to refer back here to Some Favourite Things to remind myself of stuff I thought was interesting.