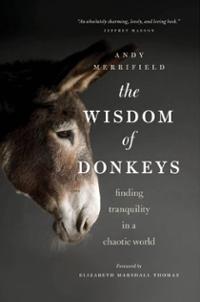 After my newly-found interest in donkeys (
Donkey Business
and
A Few More Donkeys
)
whoever would have thought I would find a book called The Wisdom of Donkeys! At the local library! How amazing is that? I love serendipity.
Written in 2008, Andy Merrifield, who is, according to Wikipedia, a British Marxist urban theorist with other more scholarly tomes under his belt, based this philosophical reflection on his walk though the Haute-Auvergne of France in partnership with Gribouille, a friend's donkey who carries his pack on the dusty mountain pathways.
In tending to Gribouille's needs and observing his behaviour, Merrifield learns to become more observant of his surroundings, less concerned about that which is outside of the present moment and he comes to understand the simple life and inherent wisdom of his donkey.
A pre-walk visit to the
The Donkey Sanctuary
in Sidmouth, Devon, England has prepared Merrifield well for spending days on end with his donkey. The account of his journey, slow and plodding, at the leisurely pace of Gribouille, helps us too to remember to take the time to notice the small details and little surprises along the ways of our own journeys.